CPR manikins help bring training to life. Students can practice their CPR technique as much as needed to build their confidence, while receiving a realistic training experience.
But with so many CPR manikins on the market, it can be challenging to figure out which manikin to buy.
Some Instructors prefer auditory and visual feedback on their manikins to boost their student's experience. While others may rank portability as their top priority.
So, the "best" manikin is going to depend on your training needs and personal preference.
Here's some of the most popular manikins we use for training.
Prestan Professional Manikin: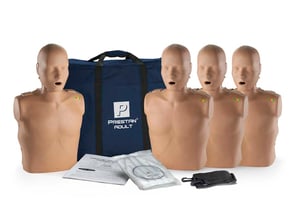 Prestan Professional Manikins are realistic to the eye and touch. They provide instant feedback to both the Instructor and student by using a CPR rate monitor with visual and auditory guides.
Students will hear a click to confirm they are performing the correct compression depth. And they'll receive a visual signal (located on the manikin's shoulder) to indicate compression speed. This valuable feedback can help students self-correct and gain more correct repetitions during practice. They're easy to set-up and clean, but they may require more storage space than other manikin brands or models.
Prestan Ultralite Manikin: A travel-friendly option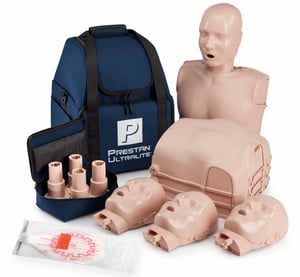 Prestan Ultralite Manikins are available with or without the CPR rate and depth feedback system. And they're extremely portable due to their stackable torsos and heads.
Many Instructors choose to use Ultralites when their training schedule includes a lot of travel. Or if they're using Remote Skills Verification (RSV) and plan to drop off manikins to their client's location.
You can choose to purchase a 4-pack of Ultralite manikins. Or take advantage of their ultra-convenient 12-pack that includes a deluxe carry bag with wheels.
As with other Prestan products, Ultralite manikins are easy-to-clean and set-up.
Laerdal Little Anne Manikin: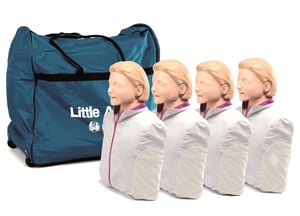 Laerdal Manikins have been one of the top training manikins since 1960. Their newest manikins include QCPR technology that connects to tablets and smartphones in order to provide better real-time and summative feedback.
But they're also more expensive than Prestan manikins, so you'll need to decide what level of investment you're willing to make.
Today's manikins are designed to be more lightweight and easier to clean. And each manufacture will have its own recommendations for maintaining its manikins over time.